Caution: West Nile Virus Entered Middlesex County
Scotch Plains, NJ – July 27, 2018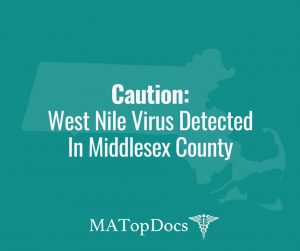 According to the Massachusetts Department of Public Health and Waltham, there have been mosquitoes that tested positive for the West Nile Virus located in Waltham. This finding was discovered on July 20 and although there haven't yet been any residents who tested positive for the virus, we recommend taking caution with the following preventative measures.
Be mindful about the fact that mosquitoes breed around water. Try to avoid all areas of still water, as that's where large amounts of mosquitoes will be.
Be liberal with the amount of bug spray you use when leaving the house and remember, mosquitoes are the most active around dawn and dusk.
The Waltham Public Health Department is also encouraging wearing long-sleeve shirts, pants, and socks to minimize exposed skin that mosquitoes can bite.
And remember, it's only the beginning of mosquito season! We've just entered the time period of high risk for catching the West Nile Virus – late July through the fall – so go grab yourself some extra bottles of bug spray and citronella candles.
---
About Us
MA Top Docs is a comprehensive, trusted and exclusive  healthcare resource featuring reviewed and approved Top Doctors and Dentists in Massachusetts online in an easy to use format. MA Top Docs only reviews and approves providers based on merit after they have been extensively vetted.
MA Top Docs is a division of USA Top Docs which allows patients to meet providers online before making their appointment.
For more information, e-mail us at [email protected] and/or visit www.MATopDocs.com.
You can also follow us on Facebook and Twitter.