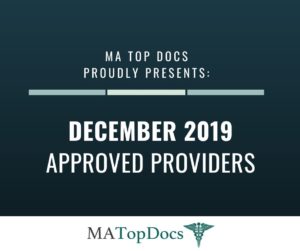 MA Top Docs and MA Top Dentists are proud to present the following recently reviewed and approved providers for December 2019.
MA Top Docs Include:
Cardiology
Dr. Ghulam Chaudhary
Dr. Alanna Coolong
Family Medicine
Dr. Douglas W. Comeau
Dr. Lisa M. Connolly
Gastroenterology
Dr. Catherine Cheney
Dr. Francis Colizzo
Hand Surgery
Infectious Disease
Internal Medicine
Dr. Adepeju Champion
Dr. Janet Chang
Dr. Sheila Chapman
Dr. Frank Chau
Dr. Connie Chen
Dr. Joanna Cichon
Dr. Lindsay Cole
Dr. Gary Coles
Dr. Christopher Coley
Dr. Amy Colson
Dr. Thomas Consolati
Dr. Maria Copello
Dr. Teresa Corcoran
Dr. Nancy Corliss
Medical Oncology
Ophthalmology
Dr. Jeffrey Chang
Dr. Joann C. Chang
Dr. Vicki M. Chen
Dr. Jason Ian Comander
Dr. Hugh Cooper
Dr. C. Douglas Evans
Dr. David Gendelman
Orthopedic Surgery
Dr. Simon Chao
Dr. Jonathan Cluett
Pediatrics
Dr. David Chesney
Dr. Bartley Cilento
Dr. Christopher Cooper
Physical Medicine / Physiatry
Plastic Surgery
Pulmonology / Critical Care
MA Top Dentists Include:
General Dentistry
---
About Us
MA Top Docs is a comprehensive, trusted and exclusive  healthcare resource featuring reviewed and approved Top Doctors and Dentists in Massachusetts online in an easy to use format. MA Top Docs only reviews and approves providers based on merit after they have been extensively vetted.
MA Top Docs is a division of USA Top Docs which allows patients to meet providers online before making their appointment.
For more information, e-mail us at [email protected] and/or visit www.MATopDocs.com.