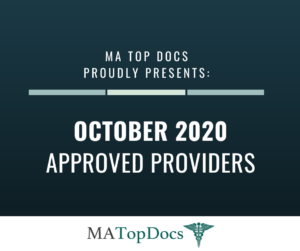 MA Top Docs and MA Top Dentists are proud to present the following recently reviewed and approved providers for October 2020.
MA Top Docs Include:
Cardiology
Dr. Shaw Natan
Dr. Richard Nesto
Endocrinology
Family Medicine
Gastroenterology
Dr. Robert Muggia
Dr. Muthoka Mutinga
Dr. Alexandre Nader
Dr. Jonathan Nass
Dr. Judy W. Nee
Hematology / Oncology
Dr. Therese M. Mulvey
Dr. Omar Nadeem
Internal Medicine
Dr. David Mudd
Dr. Hanno Muellner
Dr. Colleen Murphy
Dr. Sarah G. Murphy
Dr. Francis D. Murray
Dr. Putcha R. Murthy
Dr. Guy Napolitana
Dr. Azadeh Nasseh
Dr. Gabriel Naventi
Dr. Shabana Naz
Dr. Paul M. Nemeskal Jr.
OB/GYN
Ophthalmology
Dr. Jennifer Mullon
Dr. Kambiz Negahban
Orthopedic Surgery
Dr. Brian Najarian
Dr. Robert Nascimento
Pediatrics
Dr. Charles J. Myers
Dr. Kirti Nagpal
Dr. Thomas Natale
Dr. Brett D. Nelson
Dr. Mark I. Neuman
Dr. Huy Q. Nguyen
Physical Medicine / Rehabilitation
Pulmonology / Critical Care
Dr. Benjamin Nelson
Dr. David Neumeyer
Urology