3 Reasons Why Every Doctor & Dentist Needs To Invest In Social Media Marketing 
If you're a doctor or a dentist, you need to be investing in social media marketing for your practice. Why you ask, well in this blog post I discuss the importance of businesses having a social media presence, and  outline exactly why it is so important, not just for any business but for all healthcare and medical professions.
Number 1:
It is imperative for every business to be actively engaged on social media, but when it comes to medical professionals, it becomes even more essential. 
Did you know that 68% of prospective patients form an opinion about your practice by just looking at one to six online reviews? 
That's MORE than half of prospective patients have already formed an opinion about them before learning anything about them, just from what others said.  Talk about peer pressure!
It's true that first impressions matter and in today's digital world, your first impression is most likely never going to be face-to-face if your digital presence isn't stellar.  By using social media you can maintain good standing with current patients online which will set you up for success with future patients. Facebook reviews are more powerful than you may think,  so it's time to direct your attention to optimizing your social media footprint.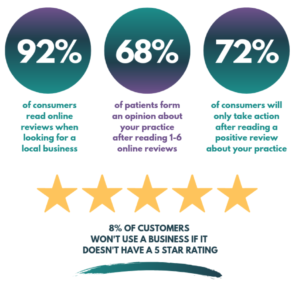 Number 2:
The great thing about social media is that by utilizing keywords across your profiles and posts, Google will find you to be a reliable source for its users. Through search engine optimization or SEO, your social media profiles and eventually your website will become higher ranking on Google. 47% of all internet searches are for information about healthcare professionals. Once you begin to rank on Google in your area of practice and your location, imagine how many new website visitors you will begin to have!  Google Ad campaigns can help with this along with blog posts, social media postings and other social networking. 
Number 3:
In addition to almost half of all internet searches being directed towards the topic of healthcare, 66% of users search online for information about specific medical problems or diseases. If you publish new content regularly about your specialty, you will stand out from the crowd immediately. There's nothing more comforting than finding a medical professional online who provides you with a plethora of knowledge before even walking into their office. Doctors are a wealth of knowledge and educating others  is a free and encouraging way to give prospective patients confidence that you care more about their well being then the bottom dollar encouraging them to schedule an appointment.  
As a certified social media specialist by Syracuse University, I can help you stand out from your competitors online and make sure you are seen as a thought leader in your industry. Click here to contact me to learn more about how we can work together.